Results in 2010/11:
1st place National Championship - GS
3rd place at the EP Pitztal - SG
1st place at the Polish Championship - GS
2nd place - SL
7th place at the EP La Molina - SG
PATRIK HETMER 
Member of the Czech national team in alpine skiing of visually impaired athletes
Date and place of birth: February 18, 1983, Plzen
Hometown: Lesni 760, Luhacovice, 763 26
Contact: +420777669059, patrik.hektak@post.cz
Facebook: https://www.facebook.com/PatrikHetmerAlpskeLyzovani/
Handicap: a narrowed field of vision in both eyes to 4 degrees + night blindness
Account number: 86-2044740237 / 0100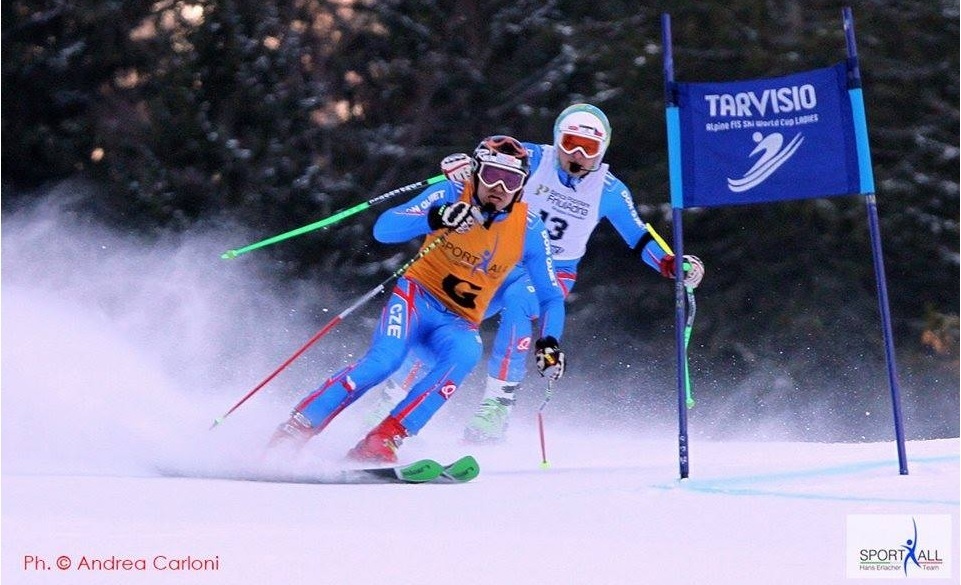 Patrik Hetmer is a representative of the Czech Republic in Alpine skiing of visually impaired athletes. Racing together with his guide Miroslav Macala. Their coach is František Dostálek.
Patrik Hetmer has congenital eye disorder called Hereditary retinal dystrophy, which causes constriction of the visual field and Tubular vision. He is also greatly limited by night blindness.
The first races Patrik and Mirek completed were in the spring of 2013 in the Austrian Innerkrems, after which they decided to approach the next season as a full time project. Immediately after his first season 2013/2014 they were nominated for Winter Paralympic Games in Sochi 2014, where they achieved a very respectable 7th and 8th place in the super combined slalom.
The following winter 2014/2015 was the most successful, Patrik and Mira won bronze in the giant slalom at the World Championships in Canada. It was the first ever men's medal for the Czech Republic from top events such as World Championships or Paralympics.
Season 2015/2016 was without a top event, but the guys have achieved superb results anyway. For the first time in his career Patrik reached the podium in the World Cup in Tarvisio, Italy, where they finished third in the giant slalom. In addition, they managed to win several races of the European Cup and then they completely dominated the finals of the European Cup in Obersaxen,Switzerland, where they won two supergiant slalom races and they finished second in super combination.
The start to the current season was also due to training shortages slower, but the boys are improving every race and they are approaching the best. Unfortunately, during the second run in the Austrian Innerkrems Patrik had a heavy crash in which he suffered severed Achilles tendon on his left leg and he is currently postoperative convalescent so that he could recover and prepare for the upcoming season and its peak - Winter Paralympic Games in South Korea.
We would like to thank to everyone who donates to a quality training and that will help us achieve more success!
Thank you!
Patrik and his team
Greatest achievements:
2019
1st place Czech Championship, Rokytnice nad Jizerou – super giant slalom
1st place Czech Championship, Rokytnice nad Jizerou - giant slalom
2nd place of Czech Championship, Rokytnice nad Jizerou - slalom
2nd place of Slovak championship, Jasna - giant slalom
3rd place Slovak championship, Jasná - slalom
2018
6th place Winter Paralympic Games PyeongChang, South Korea - Downhill
8th place Winter Paralympic Games PyeongChang, South Korea - slalom, supercombination
10th place Winter Paralympic Games PyeongChang, South Korea – super giant slalom
1st place Czech Championship, Rokytnice nad Jizerou - slalom
1st place Czech Championship, Rokytnice nad Jizerou - giant slalom
2017
4th World Cup St. Moritz, Switzerland - giant slalom
4th World Cup Innerkrems, Austria - Downhill
2016
3rd World Cup in Tarvisio, Italy in 2016 - a giant slalom
1st European Cup finals Obersaxen, Switzerland 2016 - supergiant slalom
1st European Cup Stara Planina, Serbia 2016 - Congress
2nd European Cup finals Obersaxen, Switzerland 2016 - Super Combined
2nd European Cup Pitztal - supergiant slalom
2015
3rd place MS Canada 2015 - giant slalom
6th place in Canada MS 2015 - slalom, supergiant slalom, downhill
1st place European Cup Italy 2015 - the supergiant slalom, Super Combined
1st Unofficial Championship Road Cycling - tandems, Soběhrdy 2015
6th Half-Marathon Zlín 2015 Time 1:23:00
9th place in the Great Moravian hilly half marathon 2015 Time 1:30:07
2014
7th place Winter Paralympic Games Sochi 2014 - Super Combined
8th Winter Paralympic Games Sochi 2014 - slalom
10th place Disabled athlete of the Czech Republic 2014
1st place Disabled athlete of the Zlin Region in 2014
1st place Karlovy Vary City Paratriathlon 2014