Help with us
Our company together with our customers help to support physically disabled athlete Olda Jelinek. We also supported the endowment fund Pink Bubble, which helps oncological patients throughout the course of treatment and their return to life.
Please contact us if you and your company want to participate and help skiers on wheelchair.
OLDŘICH JELINEK
 
Skier - monoski
Born: November 1, 1968
Staroholická 101
Holice in Bohemia
tel .: 606 951 721
e-mail: olda.jelinek@tiscali.cz
Web presentation: www.oldajelinek.cz/kariera/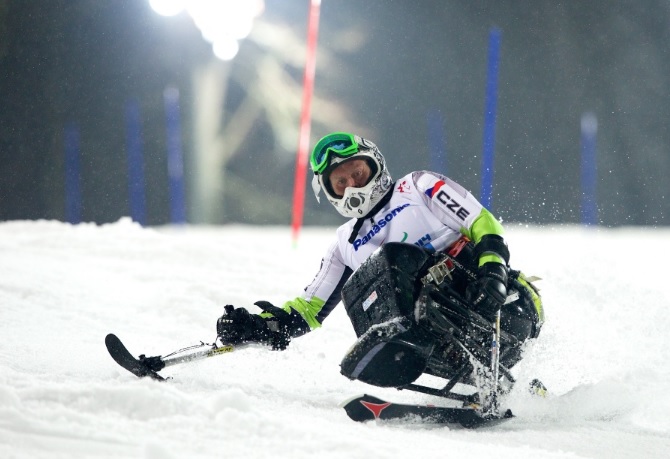 Oldrich is in a wheelchair since 1999 and since 2002 he is diligently devoted to alpine skiing. In the 2005/06 season he took part in his first international competition.
He was nominated for the Paralympic Games in Vancouver 2010. He finished 23rd out of 54 competitors.
Oldrich has had many valuable achievements, eg. 17th place at the World Championships in Korea in 2009, 2nd and 3rd place in the international championship in Austria in 2009 and many more.
This year, preparing under the guidance of coach Thomas Lisý , Oldrich would like to build on his previous successes.
At the beginning of the year thanks to the support of our customers he was able to buy a brand new monoski - Tessier (EUR 5200).
Oldrich Jelinek would like to thank to all customers who have contributed !
Results in the 2013/14 season:
4th place in the IPC in Landgraaf - slalom
3rd place at the IPC Rifellsee - GS
4th place at the IPC Rifellsee - slalom
6th place in the EP on Rifellsee - GS
7th place at the EP on the Pitztal Glacier - SG
8th place at the EP on the Pitztal Glacier - SG
8th place on the World Cup in St. Moritz - GS
4th place in the Championship of France in Auron - SG
4th place in the Championship of France in Auron - SC
5th place in the Championship of France in Auron - slalom
Results in the 2011/12 season:
2nd place at the UPC in Sestriere
5th place at the IPC in Sestriere - SG
EP Rank 12 in Sestrier
14th place at the European Parliament in Abtenau
Results in 2010/11:
1st place National Championship - GS
3rd place at the EP Pitztal - SG
1st place at the Polish Championship - GS
2nd place - SL
7th place at the EP La Molina - SG